Do you balance new play development and classics in your creative process as a director?
Coming from Armenia and then studying in Paris, I was always more interested in classics and postmodern plays. Truly speaking, in Armenia and in France, the development of new plays is not really emphasized. However, when I moved to New York City, I started working with playwrights and dramaturgs at Columbia University who amazed me with their imagination and the way they kept immersing themselves in new forms of writing which helped the "American character" constantly to be invented, expanded and reimagined. Now, after graduation, some of these people have become my true collaborators, and we keep producing new work and touring around the world. In this phase of my life, I am most interested in the development of new works including adaptations of classics such as the new adaptation of Hamlet Machine that we are currently touring around the world.
Why did you choose to turn Broken April novel by Ismail Kadare into a play?
When I read the novel, I had no doubt that I had found the material that would unveil the anxiety I was carrying deep in my heart. The novel talks about the blood feuds that are reinforced by ancient code and anyone that is caught in them has no way to escape. One can go crazy as a child in a world where from the moment you're born, you are "wearing a ribbon of death". How do we deal with the isolation and hatred that is often driving human behavior? Where is the forgiveness in the world of hate? I wanted to create a theatre that would appeal not only to Americans, Albanians and Armenians but to anyone who knows how it feels to wish for forgiveness in a divided world. In our cries for justice, we often ignore someone else's cry for help. As a storyteller, I wanted to create a platform for those who feel isolated or scared or numb –so that they can make a difference by choosing to celebrate not what makes us different, but what unites us. After a lot of research and development with the ensemble, I was lucky to have my dramaturg-playwright collaborator Ned Moore to adapt the novel into a concise and beautiful, theatrical language.
Does Broken April production have any links with your Armenian identity?
Of course, it does. As a native Armenian, I often think about the topic of animosity. The Ottoman government systematically exterminated 1.5 million Armenians in 1915. Over a century later, the modern Turkish state still denies it and the border remains closed. In 1988 in Nagorno-Karabakh, war broke out between Armenia and Azerbaijan. That border is closed as well, now referred to as a "black region." Looming nearby, the giant bear Russia manipulates Armenia for its strategic geographical position. By sinking into Broken April's sinister world, I was trying to explore the possibilities of escaping the isolation that Armenia is enduring and living through for more than a century now. It is somehow a way of healing myself from the lack of real conversation between our neighbors, which leads both sides to shutter their hearts against the possibility of meaningful dialogue.
Even though Broken April is a story that American audiences don't often get to enter, all of the 5 performances were sold out and also attended by several UN representatives. What was the formula of this success?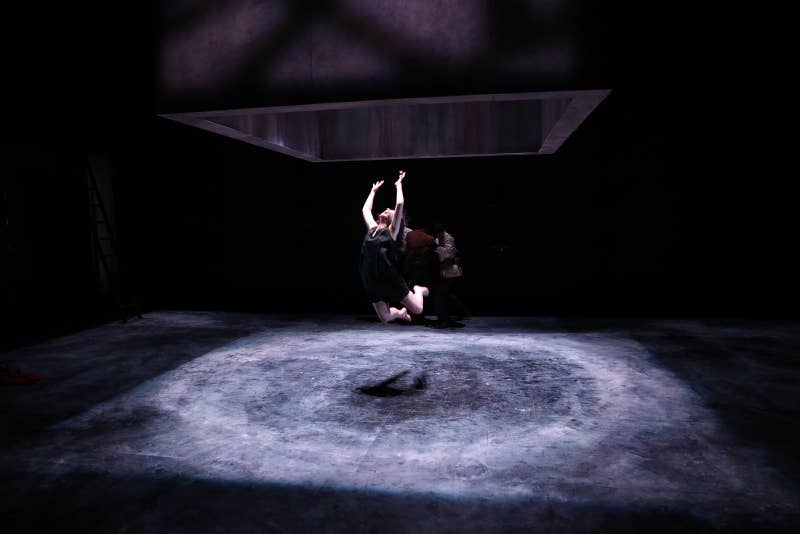 You were also singing live during the performance from backstage. How does it feel to be both director and a singer for the same performance?
As the world of Broken April has a very mythic and folkloric quality, I thought that Armenian folk songs would be a great compliment to the performance -so I chose 3 that aligned contextually with the scenes during which I was singing them acapella. As Armenian folk songs require a lot of soul to be invested into singing them, I felt that I would not be able to transmit the right mood through recording them, so we decided to incorporate a live performance. It also helped to give the actors the freedom to react simultaneously within their scenes -without worrying about the timing as I was changing the flow of the songs based on the flow of the scenes varying each day. And besides, I don't think the singing ever got in my way as a director but rather helped me to get a bigger connection with the material and the performers on stage.
What is the future of Broken April?
The playwright Ned Moore is currently doing rewrites to the play after we had a 3 day discussion workshop. Also, we are currently looking into possibilities for collaboration with Albanian theaters and aiming to present it in a new, bigger production across the US in the near future.
https://www.buzzfeed.com/buda/arthur-makaryan-and-his-passion-3n42x